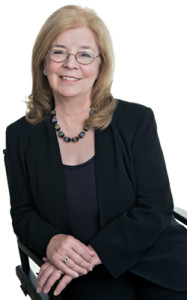 Our logo has been described as "infinity with a point". It captures my idea for this business perfectly… We need open minds but we have to get to the work. It's only when you put an idea into action that you find out what will really happen, that you will get to the point.
I do this work because I have seen over and over again what amazing breakthroughs and accomplishments are possible, and it is a privliege to be part of them.
I work with my clients to open eyes and expand thinking. Any businessperson worth his or her salt has more ideas that we can execute on. We could go around and around forever—thinking up new ideas, worrying the old ones, never committing to a clear path of action. My clients say I help them really focus, choose, and decide to go in a certain direction. And then I hold them steady on the course. Many say it is the repeated emphasis on sticking to the plan, and not running off after the next bright idea, until we find out the results of the first one, that is so valuable to them.
It has been my great pleasure to do this work for many years now. I find it intellectually stimulating, emotionally challenging and personally rewarding. And I always have to stretch myself to keep up with the fascinating, successful, and intense people I get to work with.
One last thing about the logo: After hearing me talk and talk, and wave my hands around, and reject all the designs my wonderful graphic designer came up with, my eight-year-old daughter drew that figure and asked "Mom, is that what you mean?" You know that moment when you see the truth? Our whole family was thunderstruck!
Another wonderful moment in my life was taking her with me to pick up the "professionalized" version from the designer. I remember it, but I don't think she does. It doesn't matter—it keeps me going.
In those dark moments, which come in any business, to any business owner, when you ask yourself, "What was I thinking?", I wish you your own powerful incentive. Ask yourself, "What keeps me going?"
There's a point to infinity after all.
Lorette Pruden